I've only been scared while doing my job once. It was when I wrote about Derrius Guice.
Another Wednesday, another newsletter. First of all, thanks to everyone who took the reader survey that landed in your inboxes out of nowhere on Monday. I know your time is at a premium, and I remain flattered that so many people are carving out a few minutes not only to read, but to share feedback.
(I you haven't taken the survey, you still can… please…)
I spent some time yesterday paging through everyone's responses, and one thing became clear: A lot of you want the newsletter to be more personal. You want me to write about my experiences as a reporter and as a woman in a male-dominated industry, which is perfectly reasonable. But if you know anything about me, you know I'm pretty private and extremely Not Online. This newsletter has already pushed my excruciatingly Midwestern sensibilities—nobody cares who you are, stop promoting yourself, you're annoying everyone!—and I worried yesterday about how I'd integrate that feedback without losing my mind. I came up with some mediocre ideas.
Then, this morning, I woke up to this USA Today story about former LSU running back Derrius Guice, whom the Washington Football Team cut earlier this month after he was arrested on multiple domestic violence charges. Today's piece, written by Kenny Jacoby and my badass friend Nancy Armour, details two rape allegations that were levied against Guice while he was a student at LSU. Read it in its entirety before you go any further. It'll make you sick to your stomach. At least, that's how I felt when I finished reading—and just as when the domestic violence charges dropped, I wasn't surprised. I was upset, angry and a little bit ashamed. Here's why.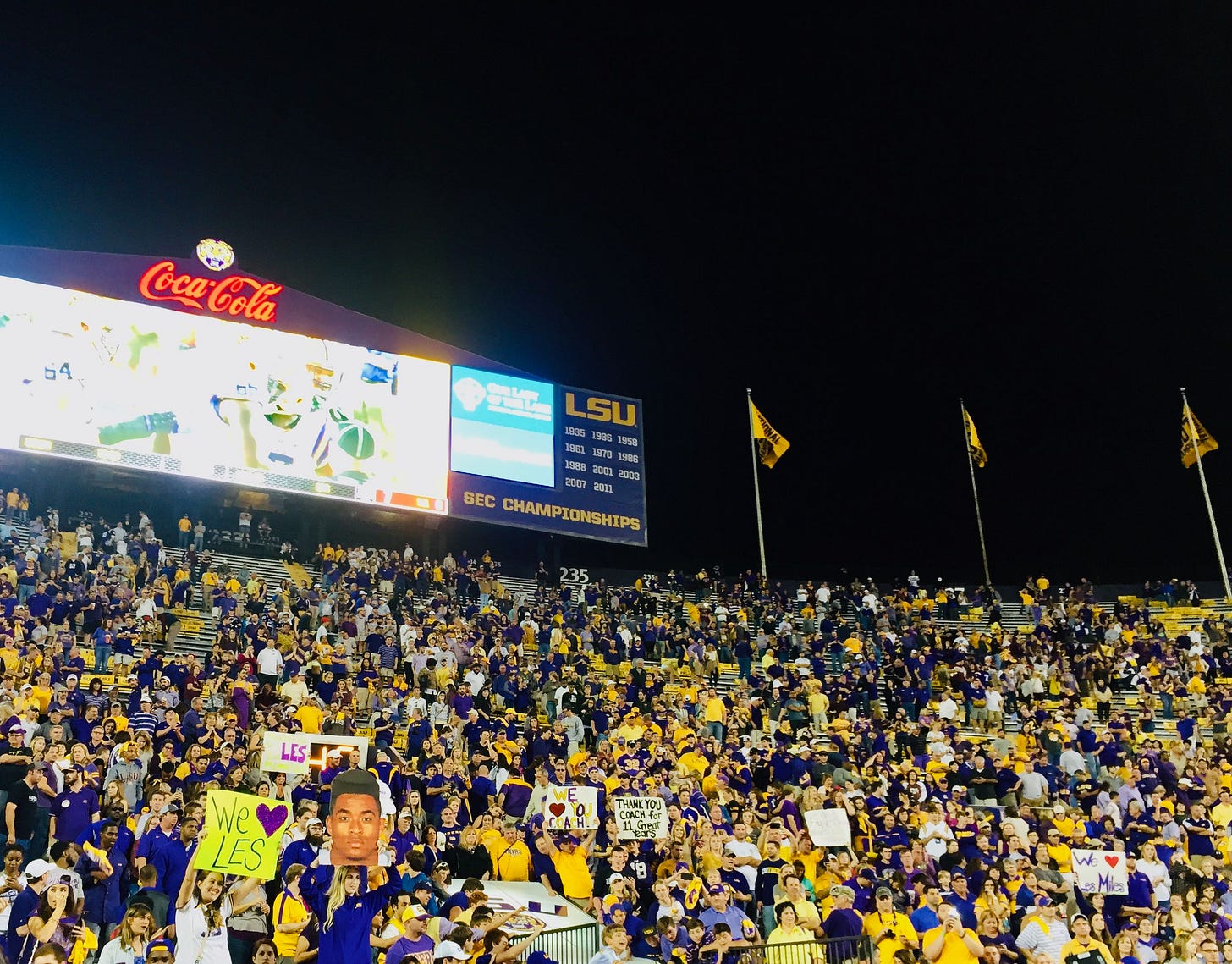 Three years ago this month, in the leadup to the 2017 college football season, I flew to Louisiana for a story. It was routine stuff: LSU had a great running back, he seemed to have an interesting—and tragic—backstory, and I was going to spend some time with him. That running back was Derrius Guice.
I stayed at my family's house in New Orleans that week and planned to make the hour-long drive to Baton Rouge two or three times. As a sophomore the previous fall, Guice, a Baton Rouge native, had filled in for the injured Leonard Fournette. He'd been LSU's leading rusher, logging 1,387 yards, and seemed poised to do it again. Even so, the national media hadn't written a ton about him beyond this Bleacher Report profile, which details his father's murder in 2003 and his brother's conviction on attempted murder charges in 2016.
It would be sensitive reporting. More than anything, I wanted to know why Guice, who could have played college football anywhere, chose to stay in Baton Rouge when the city had dealt him such a difficult hand.
I lined up interviews with people influential in Guice's life, emailing a few teachers at Catholic High School and its football coach, Dale Weiner. The teachers didn't reply. Weiner did. I stopped by the high school, sat in his office, listened to him rave about the player and person Guice had become. I relied on the coach for football insight, knowing I'd get a sense for the running back's character when I met him later.
Except I didn't. When I got to LSU's football facility for the team's media availability, Guice never showed. The sports information director (for non-media people: SIDs coordinate player interviews) seemed frustrated. He promised Guice would be there the next day, and the fact that he'd blown off the SID made me doubt Weiner's characterizations of the star as reliable and mature. Otherwise, though, I wasn't fazed.
The next morning, my phone buzzed. It was a text from a 225 area code: Baton Rouge. I don't have the message anymore, and I wasn't able to recover it from a backup, but I haven't forgotten the gist of it: Why the fuck are you poking around my life, get out of my business or else.
The message had to be from Guice; I assumed someone I'd emailed had forwarded my note to him, and he'd pulled my number from the signature. Before I could think better of it, I replied, explaining that I was a Sports Illustrated writer doing a profile, that I'd hoped to introduce myself the day before. Then I packed my bag for the drive to Baton Rouge. On my way out the door, I showed my brother the message, and his face reddened. He stopped me, told me I was crazy. He said I shouldn't go anywhere until I called the SID. It wasn't until then that I realized the text hadn't just been rude. It was a threat.
When I reached the SID, I read him the message and shared the phone number. He confirmed it was Guice and suggested I stay in New Orleans until he addressed the situation. I agreed. I knew that whenever the interview did happen, it would be in a controlled environment. The SID would be in the same room or nearby. But I was still nervous to do it. No, I was scared.
I never met Guice. The next day, my interview was pushed off again, and I had to fly home. I wanted to forget about the whole episode, can the story and move on. I should have done the opposite: pushed the issue, pestered the SID, gotten a statement from Guice, if not an apology. Instead my editor and I settled on a middle ground. I wrote about Guice but stuck almost entirely to football, with the exception of one paragraph.
Teammates attribute that energetic but intense force to Guice's childhood in Baton Rouge. His father was murdered when he was six, and just last year, Guice's brother Derrick was arrested and charged with attempted murder, among other crimes. He has done his best during his time at LSU to move on from that instability while still honoring the place where he's lived his whole life, but he still guards those around him; after receiving word that SI had called several people with whom he was close in high school, he objected and subsequently did not make himself available for an interview. Still, plenty of people who have crossed paths with Guice over the years were quick to laud the man—and player—he has become. The anger that marks his game, teammates are quick to point out, he channels into productivity.
I didn't include the threat, didn't want to make myself any more a part of the story than I had to be. I regret that. I had more than just a bad feeling about Guice; I had a message in writing that was downright alarming, and I did nothing with it. My story helped build his profile as a star and did little, if anything, to call his behavior into question. As someone who prides herself on holding people in sports accountable and trying to help shine a light on the way institutions protect misogynistic and criminal behavior, I feel fraudulent. In the case of Guice, my story wasn't a massive part of the problem—but it certainly wasn't part of the solution.
I don't miss writing about football, which is what I did almost every day for more than six years. I started on my first NFL beat six months before Ravens running back Ray Rice was arrested for assault in February 2014. I moved to college football the same fall that two Baylor players were convicted of sexual assault and the school hired the Pepper Hamilton law firm to investigate how it handled sexual violence. I can't keep track of the number of times I've written about domestic violence and sexual assault perpetrated by players and coaches, covered up by powerful individuals and programs, brushed aside when terrified victims are incentivized not to talk. Yes, these allegations occur across all sports, but no realm is worse than football. By the end of my time covering it, I didn't write a profile without wondering what if: What if he's hurt someone, what if I didn't investigate enough, what if he does something in the future? It bordered on paranoia, and I felt guilty when I applied that fear to players I had no reason to believe were anything but exemplary.
With Guice, though, I had a reason to believe otherwise, and I stayed quiet. I didn't want to be the story, didn't want to appear weak or frightened or alarmist. I dismissed him as a hothead, a jerk, a guy with anger issues. According to the USA Today story, at the time Guice threatened me, LSU already knew of both rape allegations. I wonder if Guice thought that's why I was in town, if he heard "reporter" and assumed I knew something I didn't.
But maybe that's ascribing too much sense to it all, and it doesn't matter what motivated him. What matters is that even six years after Ray Rice and five years after Baylor, two years after Urban Meyer put his neck on the line to protect Zach Smith, football still protects its own. It's still propped up by an insidious infrastructure that shields players at all costs. It makes complaints evaporate, leaves victims lost, silent and searching.
We—media, fans, everyone not sworn to the sport's code of moral ambiguity—have to be smarter, louder, better. Football isn't going to.